I1 Rhodok Cittadino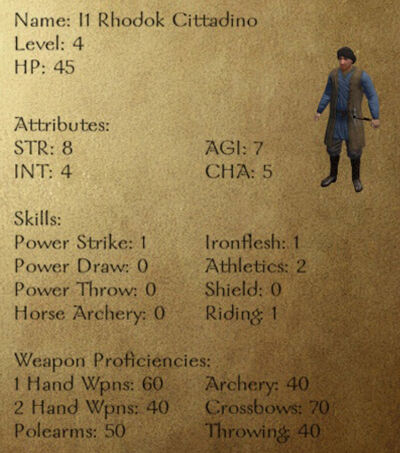 Arms:
Rondel Dagger, Pickaxe, Rhodok Club, Rhodok Stones, Pitch Fork
Armor:
White Tunic with vest, Bear Paw Boots, Dark Felt Hat, Tunic with Green Cape, Tunic with Red Cape, Tunic with Yellow Cape, Blue Tunic with vest, Green Tunic with vest, Red Tunic with vest, Brown Highlander Boots.
Upgrades to:
I2 Rhodok Novizio
I2 Rhodok Recluta
Ad blocker interference detected!
Wikia is a free-to-use site that makes money from advertising. We have a modified experience for viewers using ad blockers

Wikia is not accessible if you've made further modifications. Remove the custom ad blocker rule(s) and the page will load as expected.